Ihre Suche ergab 0 Kategorien und 11 Links.
Links

WaveLab - Windows - demo top
D
ie neue Dimension im Audio-Handling durch die einzigartige Audio-Montage, realtime Crossfades und zusätzliche PlugIns...
Neue Features:
Mehrkanal Surround Audio Unterstützung von Input zu Output mit bis zu 8 Audiokanälen zum Aufnehmen, Editieren, Processing und Mastern.
Komplettes DVD-Audio Bearbeitungsset, inkl. Playlistenbearbeitung, On-Screen-Video-Menüdesign, Picture-Slideshows und DVD-Text.
Benutzerdefinierbare Surround-nach-Stereo Abmischung
DVD-Audio brennen inkl. Videodaten, DVD-Audio Extrahierung, Umwandlung und Archivierung
Neue "Smart" Video-Thumbnail Spur - für einfaches Anlegen von Ton an Video
Mehrkanal-Metering und Analyse-Funktionen mit bis zu 8 Kanälen
ASIO Instant Remapping für unmittelbaren Audiovergleich auf Knopfdruck
Neue Formate: WMA Pro 5.1 Export , AVI Audio Import


→ WaveLab - weitere Informationen...

56085 Downloads
---
Edit and save audio files in MP3, FLAC, WAV, M4A, WMA, AAC, MP2, AMR, OGG, etc.
Cut, join, trim, mix, delete parts, split
Select between 20 built-in effects and filters including delay, flanger, chorus, reverb, and more
Record audio data from various inputs like microphone, vinyl records, and other input lines on a sound card. Edit recorded audio files, apply effects, save them in any key audio format
Extract and edit audio from your video files
Edit an audio file and save it to M4R format for iPhone
AVS Audio Editor interface is available in english, french, deutsch, spanish, italian, japanese, dutch, polish and russian.

→ AVS DVD Copy - weitere Informationen...

1106 Downloads
---
Cool Record Edit Pro helps you transfer tapes, LPs, live performances, Internet radio, TV, DVD, or any other sound source to your hard drive. The software helps protect your valuable recordings - just set the sound source, the recording quality, and volume, then start recording.
The Editor allows you to perform various operations with audio data such as displaying a waveform image of an audio file, filtering, applying various audio effects and more. It includes a click and crackle filter for cleaning vinyl records, a noise filter for cassette-tape recordings, and an equalizer to enhance the sound quality of all recordings.
Cool Record Edit Pro supports a wide range of audio formats, such as MPEG (MP3, MP2), WAV, Windows Media Audio, Ogg Vorbis, Audio Tracks and Dialogic VOX. It is easy to convert an audio file from one format to another. You can use the build-in CD ripper to copy all or some of your music tracks from your personal CD collection. Or, use build-in CD burner to burn your recordings to CD!
Recording
Record new audio file from a microphone or another sound source.

Editing
Open, create and save audio files. Play an audio file or any part of it. Visually edit an audio file (Cut, Copy, Delete, Paste, Paste From File, Mix, Mix From File and Insert or Delete noise or silence in an audio file).
Display
Display a waveform window of an audio file and apply zooming.
Digital effects
Apply different effects (Amplify, Delay, Equalizer, Fade, Flanger, Invert, Normalize, Reverse, Multi Tap Delay, Silence, Stretch, Vibrato, Echo, Chorus)
Audio filters
Apply different filters to the selected part of an audio file (Ban Pass Filter, High Pass Filter, High Shelf Filter, Low Pass Filter, Low Shelf Filter, Notch Filter)
Support all major audio formats
Cool Record Edit Pro supports a wide range of audio formats, such as MPEG (MP3, MP2), WAV, Windows Media Audio, Ogg Vorbis, Audio Tracks and Dialogic VOX.


→ Cool Record Edit Pro - weitere Informationen...

401 Downloads
---
Create your own music DVD and enjoy it on any DVD player!
Audio DVD Creator is a revolutionary tool that changes the way you listen to your favorite music. You can create DVD disc compiled from normal Audio CDs and MP3 files, and play it on any DVD player since it's DVD-Video compliant. You can choose the audio format from high quality (up to 6 hours PCM 48kHz/16bits) or high quantity (up to 45 hours AC3 192kbps).
Put several (about 5-6) Audio CDs on one DVD with perfect audio quality.
Put thousands of MP3 files on one DVD.
Burn the Audio DVD to DVD-R/RW and DVD+R/RW.
Export the Audio DVD to hard disk folder.
Output format is DVD-Video compliant, so that it can be played by any DVD player.
Rip Audio CD to WAV files, and import them to Audio DVD directly.
Preview shows an overview of your audio DVD.
Save/Load your project, and edit it anytime.
Blazing fast speed, only need about 30 minutes to create a PCM format Audio DVD. For AC3 format, it may need several hours.
Easy to use: the wizard will guide you step by step - very suitable for beginners!


→ Audio Music DVD Creator - weitere Informationen...

7589 Downloads
---
DVD Audio Extractor is the best DVD Audio Extractor and DVD audio Ripper software. It can extract audio from DVD to M4A, MP3, AAC, WMA, WAV, AC3, OGG, RAM, RA audio formats with lossless sound quality and super fastest conversion speed.
In addition to extract DVD audio or sound function, 4Videosoft DVD Audio Extractor supplies the abilities to extract any time-length DVD audio by specifying the start time and end time, or extracting audio by dragging the slider bar, capture favorite picture from DVD, set audio properties, etc.
DVD Audio Extractor is absolutely easy to use. The whole process of conversion can be finished in few clicks.

→ DVD Audio Extractor - weitere Informationen...

2087 Downloads
---
Acala DVD Audio Ripper is a intuitive to use program which extract your favorite DVD movies audio track and make it into your music. The build-up enhanced encoder deep compress output files with high speed and lossless quality. With Acala DVD Audio Ripper, you are able to convert DVD movies audio to your own favorite mp3, wav, wma music and playback on mp3 player.
It is a one-click solution program. It also supports Automatically Shut down your computer after the conversion had been done. it means you can just go to sleep or have a cup of coffe, Let your computer do all the jobs and automatically shutdown when all jobs are done. And its preview and edit function make you edit the video easily!
Key Features:
User-friendly interface : one click settings solution, need not any basic knowledge
Build-up enhanced encoder ensure the output quality and high speed to finish task
One click profile settings solution and easy customize settings, need not any basic knowledge
Audio Track selectable for each episode
Set the start position and end position for any episodes to convert.( cut movie clip to convert )
Batch convert main movie and any episodes
Batch files conversion
Preview playback movies and any episodes, the preview playback maybe come up slight audio crawl, it does not matter with the output movie quality, just preview to check out the source episode
Output music supported mp3, wma, wav ect.
Customize mp3 audio tagging information to make your own mp3 music
Automatically Shutdown Computer When ripping done


→ Acala DVD Audio Ripper - weitere Informationen...

1539 Downloads
---
UltraMixer ist eine DJ-Mixing-Software mit der CDs oder digitale Musik in zahlreichen Formaten wie MP3, WMA, OGG oder WAV abgespielt, ineinander gemixt und mit Echtzeiteffekten verfremdet werden können.
Alles was dafür benötigt wird, ist eine Soundkarte. Die Turntables des DJs werden dabei durch zwei digitale SoundPlayer ersetzt, die "Vinyls" stehen im integrierten FileArchive sekundenschnell zur Verfügung. Ob professioneller Auftritt oder Privatparty, ob als virtuelle Jukebox in Restaurants oder Arztpraxen, UltraMixer ist vielfältig einsetzbar und für viele musikalische Anlässe die richtige Wahl.
UltraMixer ist die weltweit erste DJ-Software, welche für die gängigsten Betriebssysteme Windows, Mac OS X und Linux erhältlich ist.

→ UltraMixer DJ-Mixing-Software MacOS(X) - weitere Informationen...

15071 Downloads
---
Acala Video mp3 Ripper is an audio extractor software, extract audio from most of video movie files and make into mp3 music files. With Acala Video mp3 Ripper, you will be able to make your own favorite music from huge of internet movies!Acala Video mp3 Ripper is able to convert divx, xvid, avi, mpg, mpeg, vob, vcd, svcd to mp3 music files, with fast speed and high quality.
It is a one-click solution program. It also supports Automatically Shut down your computer after the conversion had been done. it means you can just go to sleep or have a cup of coffe, Let your computer do all the jobs and automatically shutdown when all jobs are done. And its preview and edit function make you edit the video easily!
Key Features:
World classic converting speed and quality
Support Set the start position and end position of source file to convert (cut movie clip to convert)
Support almost popular video files (DIVX, XVID, AVI, MPG, MPEG,VOB,VCD,SVCD,etc.)
Support Batch files conversion
Customize mp3 header information to make your own mp3 music
User-friendly interface : one click settings solution, need not any basic knowledge
Preview display: you can playback the video clip in preview window
Output music supported mp3, wma, wav ect.
Automatically Shutdown Computer After Long Time Conversion


→ Acala Video mp3 Ripper - weitere Informationen...

1425 Downloads
---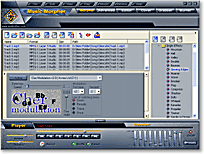 AV Music Morpher 2.0 is a real All-in-One Digital Music Studio. All MP3 and CD tools are available at hand: voice morpher, music morpher, effect mixer, audio editor, Mp3 converter, CD ripper, CD burner, MP3 player and recorder... Music Morpher enables users to make a wide range of studio work, from recording an audio clip, morphing or remixing a song, to recording your karaoke albums, and making a brand new completed CD. Now you don't need any audio editor or any CD ripper, CD burner or MP3 converter. With the unique voice morpher included, Music Morpher really gives a new concept in music morphing.
Voice Morpher and Music Morpher: change voice pitch and voice timbre totally; add effects, beat, drum, bongo, cher; change tempo of songs. All useful tools are available: pitch-timbre morpher, effect morpher, beat tracker, tempo morpher, cher modulation, frequency morpher, advanced tune, equalizer.
Effect Mixer: edit your own special effects; mix your own complex effects.
MP3 Converter: Convert file format between mp3, mp2, wav, wma, ape, nist, au, irc, ogg, aif.
CD Ripper, CD Burner, CD Cover and Label Editor, MP3 Player and MP3 Recorder, Audio Editor


→ AV Music Morpher - weitere Informationen...

3640 Downloads
---

Changes your voice to hundreds of new and high-quality voices of man, woman, girl, boy, or baby in voice chat, web phone and game zones.
Pitch & Timbre table is the most important and unique tool of AV Voice Changer Software - a computer's voice changer software for Windows - in changing instantly the voice input in two dimensions: Voice Pitch and Voice Timbre. In addition, Effects, Preset, Record buttons and other functions support the voice output in real time. Thus, you can totally control the "age" and "gender" of high-quality and natural voice output with this voice changer software.
AV Voice Changer can itself hook and change all audio streams such as: DirectX, Recording, and Playback. Therefore, AV Voice Changer Software allows you to instantly change voice input from microphone, CD-ROM, Line-in or any other media files like MP3, WAV... played by a sound player.

→ AV Voice Changer Software - weitere Informationen...

3836 Downloads
---
Acala Video mp3 Ripper is an audio extractor software, extract audio from most of video movie files and make into mp3 music files. With Acala Video mp3 Ripper, you will be able to make your own favorite music from huge of internet movies!Acala Video mp3 Ripper is able to convert divx, xvid, avi, mpg, mpeg, vob, vcd, svcd to mp3 music files, with fast speed and high quality.
It is a one-click solution program. It also supports Automatically Shut down your computer after the conversion had been done. it means you can just go to sleep or have a cup of coffe, Let your computer do all the jobs and automatically shutdown when all jobs are done. And its preview and edit function make you edit the video easily!
Key Features:
World classic converting speed and quality
Support Set the start position and end position of source file to convert (cut movie clip to convert)
Support almost popular video files (DIVX, XVID, AVI, MPG, MPEG,VOB,VCD,SVCD,etc.)
Support Batch files conversion
Customize mp3 header information to make your own mp3 music
User-friendly interface : one click settings solution, need not any basic knowledge
Preview display: you can playback the video clip in preview window
Output music supported mp3, wma, wav ect.
Automatically Shutdown Computer After Long Time Conversion


→ Acala Video mp3 Ripper - weitere Informationen...

1313 Downloads
---